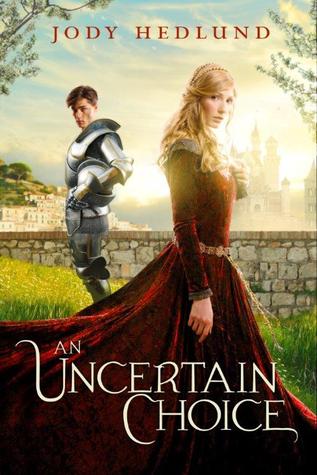 Description:
Due to her parents' promise at her birth, Lady Rosemarie has been prepared to become a nun on the day she turns eighteen. Then, a month before her birthday, a friend of her father's enters the kingdom and proclaims her parents' will left a second choice. If Rosemarie can marry before the eve of her eighteenth year, she will be exempt from the ancient vow.
Before long, Rosemarie is presented with the three most handsome and brave knights in the land. But when the competition for her heart seemingly results in a knight playing foul, she begins to wonder if the cloister is the best place after all. If only one of the knights the one who appears the most guilty had not already captured her heart.
My Opinion:
I was so excited when this came in the mail, but was absolutely shocked by the size of it. It was over 100 pages shorter than most of Jody Hedlund's other novels. However, even though it was short I was in AWH of how Jody made the story come alive with an interesting plot in that time.
I have never read a book with knights vying for a maidens attention in a competition to win her heart, and even though I found the idea unrealistic, it made for an entertaining read. I literally had a hard time putting this book down.
I also liked how An Uncertain Choice was not just about the competition, but also about what was best for the kingdom that Rosemarie was about to rule. She didn't just think about what was best for her, but what was best for her people. She had to overcome her insecurities, and pull strength from the ones she loved to become the leader she was meant to be. She had to stand up for herself against the ones trying to undermine her authority. Summed up, I saw a young girl transform into a strong woman of honor, courage, and faith.
One thing I would have done is give the 'winning knight' a flaw, that way there would have been more of a struggle for Rosemarie and him to be together than just other people getting in their way.
Stars: 4