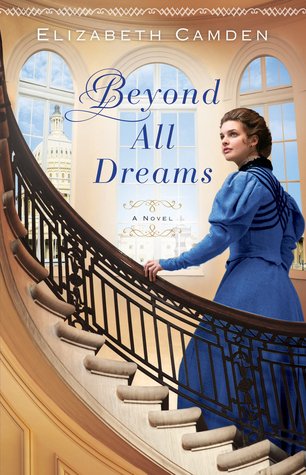 Description:
Sweeping and Romantic Historical Drama from an Award-Winning Author
Anna O'Brien leads a predictable and quiet life as a map librarian at the illustrious Library of Congress until she stumbles across a baffling mystery of a ship disappeared at sea. She is thwarted in her attempts to uncover information, but her determination outweighs her shyness and she turns to a dashing congressman for help.
Luke Callahan was one of the nation's most powerful congressmen until his promising career became shadowed in scandal. Eager to share in a new cause and intrigued by the winsome librarian, he joins forces with Anna to solve the mystery of the lost ship.
Opposites in every way, Anna and Luke are unexpectedly drawn to each other despite the strict rules forbidding Anna from any romantic entanglement with a member of Congress.
From the gilded halls of the Capitol, where powerful men shape the future of the nation, to the scholarly archives of the nation's finest library, Anna and Luke are soon embroiled in secrets much bigger and more perilous than they ever imagined. Is bringing the truth to light worth risking all they've ever dreamed for themselves?
My Opinion:
I had no idea what this book was about when I asked for it to review. When it came in the mail and I read the back of the cover I thought I was in for a boring story. A map librarian and a Congressman teaming up to discover what actually happened to a ship at sea fifteen years earlier just didn't strike me as interesting. My mind was blown when the story actually captivated my attention.
I liked how both Anna and Luke had unique past experiences, but that related to each others circumstances in a way that made it easy for these two polar opposites to connect. Growing up both of them were outcasts because of people in their families, but they wanted to be more than their family reputation. In doing that they both got noble jobs working for the government. Luke wanted to turn his life around not just for him, but for the future people to come from his family. Anna wanted do something with her life that would make her father proud.
In all that made them alike, it also put strains on their growing relationship. Both obsessed with their work and wanting to do what was best, their missions crossed paths that would lead to one needing to give up their life's work.
The struggles these two went threw not only to be together, but to be friends at all was astounding. And I loved watching them overcome every obstacle.
The only thing that bothered me about this book was that I thought Anna's obsession with the Culpeper was a little over the top, and she was EXTREMELY paranoid which became annoying.

Stars:4