Click the above picture to go to the website!
Thank you to my friend
Abbie
for showing this to me! She is so awesome! I hope all of you River of Times fans go to this website in supp
ort for them to become movies. I also hope you share this on facebook, twitter, instagram, pinterest, any site you can think of! Even if you have never read the books, wouldn't you want to see an awesome movie?
I'm not saying that this will ever happen, but if we want it to, we must try to get as many people as possible involved. For these books to become hit movies would be a dream come true.
Lets just say I am a little obsessed with these books...
For the people who have never read them here are summaries of each one of the books, hopefully they will grab your attention to the point where you want to read them!
Waterfall
What do you do when your knight in shining armor lives, literally, in a different world?



Most American teenagers want a vacation in Italy, but the Betarrini sisters have spent every summer of their lives among the romantic hills with their archaelogist parents. Stuck among the rubble of the medieval castles in rural Tuscany, on yet another hot, dusty archaeological site, Gabi and Lia are bored out of their minds...until Gabi places her hand atop a handprint in an ancient tomb and finds herself in fourteenth-century Italy. And worse yet, in the middle of a fierce battle between knights of two opposing forces.

Suddenly Gabi's summer in Italy is much, much more interesting.
Cascade
Mom touched my underdress—a gown made six hundred years before—and her eyes widened as she rubbed the raw silk between thumb and forefinger. She turned and touched Lia's gown. "Where did you get these clothes?"
Gabi knows she's left her heart in the fourteenth century and she persuades Lia to help her to return, even though they know doing so will risk their very lives. When they arrive, weeks have passed and all of Siena longs to celebrate the heroines who turned the tide in the battle against Florence—while the Florentines will go to great lengths to see them dead.
But Marcello patiently awaits, and Gabi must decide if she's willing to leave her family behind for good in order to give her heart to him forever.
Torrent
When Gabi and Lia finally learn to surf the river of time, they realize they must make hard choices about life and love in the third and final book in the River of Time series.
Gabi and Lia Betarrini have learned to control their time travel, and they return from medieval Italy to save their father from his tragic death in modern times.
But love calls across the centuries, and the girls are determined to return forever—even though they know the Black Plague is advancing across Europe, claiming the lives of one-third of the population. In the suspenseful conclusion of the River of Time series, every decision is about life … and death.
Bourne & Tributary
It's possible to beat a She-Wolf.

But you cannot keep her down...

The Bettarinis and the boys they love are back with these two novellas that follow
Waterfall, Cascade
and
Torrent
.

In
Bourne
, t he story picks up right where
Torrent
left off...Find out what happened to wounded warriors returning from battle, to the Betarrinis, fighting for the men who've captured their hearts, and what will happen to them next...

A year later, in
Tributary
, Lia struggles to overcome the fear that constant battle has heaped upon her; Gabi and Marcello face an unexpected crisis; and Lord Greco may be ready to leave the grief and loss of his past behind him, so that he might grab hold of the future...
Deluge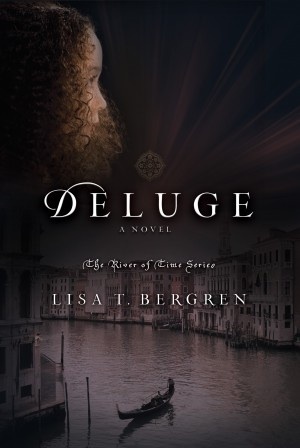 Click on picture for my book review.
The Bettarinis and Forellis have found rich fulfillment together in medieval Italia. But after fighting off countless enemies, they now must face the worst foe of all. As the Black Death closes in upon them, threatening everything and everyone they hold dear, Lia and Gabi–and the knights they love–must dig deep within to decide how they might remain safe…and if they need to risk it all in order to truly live as they're called.
Here are some actors that I have thought for the bigger roles:
Henry Cavill as Marcello Forelli
Luke Mitchell as Luca Forelli
Justice Joslin as Lord Greco (He is not an actor, but a model)
Aiden Turner as Fortino Forelli
Emilia Clarke as Gabi Bettarini
Teresa Palmer as Lia Bettarini
Natalie Dormer as Lady Ramona Rossi
Diane Lane as Adri Bettarini
Liev Schreiber as Lord Paratore
Sam Claflin as Lutterius and Georgii (Identical twin knights for the Forelli castle)
That's all I have for now, but I hope it shows you just how excited I am about this whole thing! Please feel free to post your choices for the characters or propose them on the website by clicking the top picture! :) :) :)