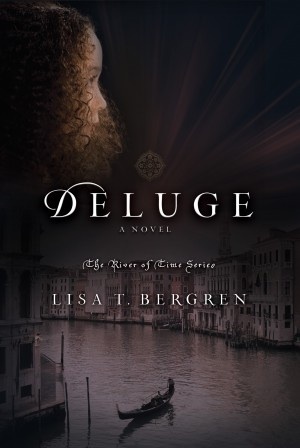 Description:
WARNING TO MY BELOVED RIVER TRIBE: HARD THINGS HAPPEN IN THIS BOOK. Get your Kleenex ready...If you're not ready for some special characters to perish from plague and in battle, you won't want to read it. Seriously. You can walk away now and you can make up your own ending in your mind. BUT, that said, there's also a ton of romance and suspense and fun too! To embrace life, and live it to the fullest, we must appreciate the day--and occasionally face down death--and our beloved Forellis and Betarrinis learn that all over again. Ready? Ready. We can DO this... --Lisa

IT'S ONE THING TO BATTLE FOR LIFE...BUT WHAT DO YOU DO WHEN DEATH ITSELF COMES HUNTING?

The Bettarinis and Forellis have found rich fulfillment together in medieval Italia. But after fighting off countless enemies, they now must face the worst foe of all. As the Black Death closes in upon them, threatening everything and everyone they hold dear, Lia and Gabi–and the knights they love–must dig deep within to decide how they might remain safe…and if they need to risk it all in order to truly live as they're called.

Praise for the series:
"Disgustingly good. Bergren is a diabolical PLOT GENIUS." --LoganTurner.com
"Smart...SURPRISING...Sweet." --Colleen Houck, best-selling author, on goodreads
"Can you say 'SWOON'?" --SmallReview.com
"400 pages of NON-FREAKING STOP..." --YearningtoRead, Amazon
My Opinion:
I waited to read this book for 2 years. I don't know if you have ever waited that long to read a book that you had been anticipating, let alone wait 2 years for the LAST book of a series, but it is HARD! Even EXCRUCIATING!!! I know that I am not the only one who went through this, thank goodness I had other people who knew why I was so emotional when this book kept on being postponed. But let me FREAKING tell you that the wait was worth it! I wish that Lisa could keep writing about the Forelli's and Bettarini's because they have become my favorite family to read about ever! However, I know that all works of writing must come to an end at some point. I understand. It's a bittersweet thing to know that my journey with them has ended, but I'm glad that I can re-read the books again and again to reminisce about.
Let me first start with what everyone wants to hear about- Lia and Luca. I'm not going to give anything big and important away, but trust me, Luca was at the top of his game! He was nowhere near failing in the swoon department. Now, I am DIE HARD team Marcello, but Luca definitely was tempting me to come to his side. It is crazy how real Marcello and Luca are to me. I try not to do this, but whenever I am reading another book I am always comparing them to these two, and I have not found any who have surpassed my respect for them.
I didn't quite know what to expect from
Deluge
, I knew it was going to be a hard and heart wrenching story. However, I was pleased to have some comic relief sprinkled in certain segments. Actually, about the first half of the book was pretty light and happy. There were some parts where I could see tension and frustration was on the rise, but for the most part it was fun to read and watch the 'She-Wolves' back at proving their 'prowess'.
There was an extremely interesting twist to this book that I was not expecting. You would think that after waiting for so long to read this, I could have thought of every single possible scenario that could have taken place. Nope. I was thoroughly impressed with the fact that I could not guess what was going to happen. I can see how some people might not like the twist that she put in the story, but I believe it was a great idea.
One little thing that I was a bit frustrated about was that some of the things that Lisa described seemed to modern. At one part Lia was getting shoes made for her, and to get her foot measured she placed her foot on a row of different outlined feet on a step in the shop. It sounded to much like those rugs you would see in the shoe section at a store for little kids to find what size they were. There were a couple other things that I spotted like this that I just thought seemed to modernized for the 14th century. What do I know though? I'm sure they were civilized and had their own systems for things back then. It wasn't the cavemen era!
Lisa warns that tough things happen in this book, and I eco her statement. GET YOUR KLEENEX'S AND HAVE THEM READY! Make sure it's a brand new box as well! I could not recommend this book with anymore enthusiasm than I already have! I hope all you will quickly get this uploaded onto your reading devices and start as soon as you can!
Stars: 5