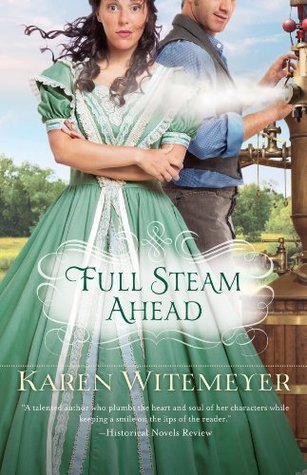 Description:
Nicole Renard returns home to Galveston, Texas, to find her father deathly ill. Though she loves him, Nicole's father has always focused on what she's not. Not male. Not married. Not able to run Renard Shipping.

Vowing to find a suitable husband to give her father the heir he desires before it's too late, Nicole sets out with the Renard family's greatest treasure as her dowry: the highly coveted Lafitte Dagger. But her father's rivals come after the dagger, forcing a change in Nicole's plans.

After a boiler explosion aboard the Louisiana nearly took his life, Darius Thornton has been a man obsessed. He will do anything to stop even one more steamship disaster. Even if it means letting a female secretary into his secluded world.

Nicole is determined not to let her odd employer scare her off with his explosive experiments, yet when respect and mutual attraction grow between them, a new fear arises. How can she acquire an heir for her father when her heart belongs to another? And when her father's rivals discover her hiding place, will she have to choose between that love and her family's legacy?


My Opinion:
An unexpected surprise! Based on the cover I assumed this book was going to be a straight forward comedy. Even from the description, a dagger? I thought, "this is going to be humorous." Even though there were some funny scenes, it was much more serious then I presumed. An the story pulled off the seriousness of situations quite well. I actually wanted to cry when I saw how past tragedies haunted Darius for over a year.
I loved how Darius made everyone who worked for him feel like family, and how he even called them as such. It was touching how much he cared for people and how quickly he took them on under his wing, even though it was more them carrying his weight for so long.
Darius and Nicole's romance came along pretty fast. I found it a little odd how for a while Darius refused to spend time around Nicole, then all of the sudden he can't be dragged away from her company. I thought the tension between their relationship should have been dragged out a little longer. The speed that everything transpired in was to quick for this story. But, after their relationship got rolling they were the cutest couple you could lay eyes on, and Darius definitely became swoon worthy.
There is nothing left that I could critique about Full Steam Ahead. One small thing that I would have done differently, but other than that. Beautiful story!!!
Stars: 4